From
November 25, 2009
to
July 5, 2010
(7 months)
Skills:
css, html, JavaScript, jquery, php
Description:
Catch-up TV website
Page views:
~30 millions per month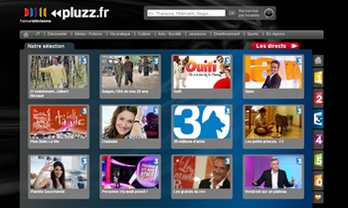 As a new graduate, I joined the French TV broadcaster France Télévisions at the end of 2009 to start developping this project in a team of 5. My role was to develop the front interface and connect it to the back end. I have worked on V1 (2010-2011) which was the online catch-up TV of the broadcaster, and V2 (2012) which evolved to also stream live TV from the 5 national channels. Since then the website has been redesigned several times by the company.
By far, it is one of the most crucial projects of the company, and it is also for me one of the most interesting projects I was able to contribute to. It is a great satisfaction to have participated in finally making TV available to everyone on my favourite media, the web.
Homepage V1 with favorite marker + hover effect